"Ray Pasnen's voice and the style with which he uses it is simply phenomenal." -Trend Journal
Ray's Bio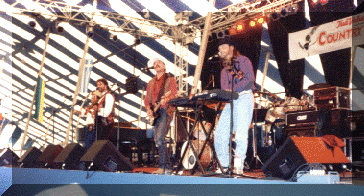 Ray Pasnen is a unique and memorable entertainer who combines his skills as a piano, guitar and harmonica player with an acclaimed vocal style. All of this wrapped up in a comedic package that is not soon forgotten. His distinctive voice takes the warmth of Country, the soul of Rhythm & Blues and the driving energy of Rock and Roll and delivers it in a style all his own.
Ray has traveled the world with his live show, making friends and fans. From Korea to New York, Bermuda to Germany, his endearing stage presence has earned him a place in the hearts of many. His range often amazes folks. From old stand-byes to brand new hits, Ray is right at home with any sort of song.
"Hey, even his web site is great!" -some drunk
His music is available on various albums. The 1992 release, "Human Race", kicked off a Wal-Mart sponsored tour. Later, "Live in Bermuda", was released as a 30 song-double CD and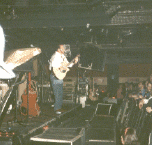 includes not only his originals but many hits from various artists. Most recently, Ray has produced a new album called, "Music from the Mill". It was recorded in Bielefeld, Germany at Mühlenstudio. [Mill Studio] He has received extensive airplay around the U.S., Canada, Europe and Asia.
Ray Pasnen's talents have found him in the spotlight opening for such stars as Travis Tritt, Lorrie Morgan, Johnny Cash, Willie Nelson, The Charlie Daniels Band, Little Texas and more. He has played before audiences at venues such as the island wide 4th of July Celebration in Guam and the world famous Lincoln Center and Beacon Theater, both in New York City.
Ray was born in 1968 in Kaiserslautern, Germany while his mom and dad were in the military and then brought up in Medway, Maine, USA. At the age of 18, he moved to Boston, Massachusetts and attended Berklee College of Music for 2 years taking every music business course that was offered. He then returned to the mid-Maine area (around Bangor) and played with the popular band, Choice. The band played all over Maine and Atlantic Canada including Disabled American Veteran's Halls, Stacey's Country Bar at The Dick Stacey Motel, various Elk's lodges and much more. After successfully entertaining thousands of folks around the northeast, he moved a little south to New York City and pursued an offered production deal with Powerhouse Entertainment. He spent 5 years, signed two more production deals and broke into the Manhattan nightclub scene in NYC. For many years you could catch Ray performing at several of New York City's well known music venues like The Back Fence, Rathbone's, The Red Lion, Wilson's, The Mercury Lounge, Tramps, The Bitter End and many more. One night while playing at Eamon Doran's in the Pennsylvania Hotel, Ray met Jill Ruxton who was the manager at The Wharf Tavern in St. George's, Bermuda. Jill hired Ray to play the next two years in St. George's. He then moved to performing at The Swizzle Inn in Bailey's Bay, Bermuda and has been working there six months per year for 9 seasons. In between his summer gigs he works in Germany , the US, England, Holland and, this year, Australia in January.
When his schedule permits, he donates his services to many charitable causes. He plays for the children at Memorial Sloan-Kettering Pediatric Cancer Research Center in New York for Musicians On Call, does benefit concerts for the March Of Dimes and various "gigs" for the mentally challenged, homeless and infirm for New York's Hospital Audiences, Inc.