Ray Pasnen: Press Clippings
Just a few pieces of press from a few different places and a few different times.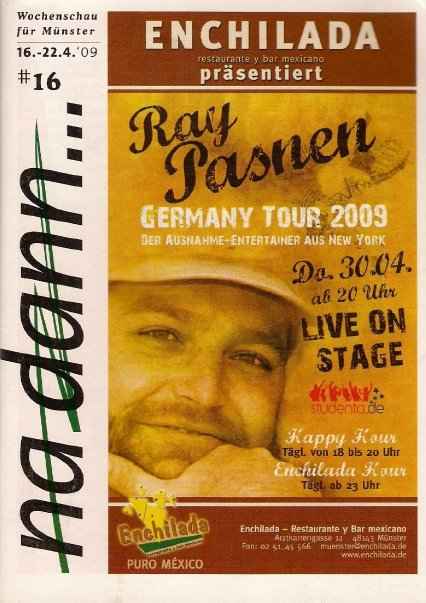 Here is a centerfold article from "Stadt" Geflüster in Minden, Germany
circa Mar 2008

translation by Julia Barduhn:
"On his tour across Germany, Ray Pasnen also visits the Enchilada in Minden. He again shows his great musical talent to a large audience. Those who missed this fabulous highlight must not worry because Ray returns for one more show on 14/03/08. Don't miss it!"
The centerfold in the magazine is the article and photos from the first show in Minden.
From "The Royal Gazette", January 29. 2005 [full article new window]
...This was after all, the Swizzle Inn, and the swizzle, as always, was going down well. That might have been partly due to the live entertainment. Swizzle's occasionally shot-shooting, and always guitar-strumming Ray Pasnen ("the funniest, most entertaining musician in Bermuda") took requests from the crowd and generally kept all in very high spirits... ...by the end of the night, like everybody else, we were foot-tapping and mouthing the lyrics to songs we didn't even know we knew...
~ thanks to food reviewer, Hack the Knife, from the Royal Gazette

Here is an article from Trend Journal, an entertainment magazine in Germany. Thanks to my good friend Liz Sklad and her friend, Markus, for this translation.
"Ray Pasnen is a gifted singer and guitarist from the United States who took up the invitation to come to Germany after being accidentally discovered by a good friend of the Trend Journal. "Live in Bermuda" shows the artist as a brilliant interpreter of selected singer/songwriter titles and classics from 30 years of rock music in front of an enthusiastic audience. Ray Pasnen's voice and the style with which he uses it is simply phenomenal-with relaxed but always passionate and expressive intensity. His earlier album, "Human Race," was recorded with a full band and proves that he has also created very good and diverse self-composed pieces with the expressive lyrics and intelligent arrangements. Ray Pasnen is the best-kept secret for friends of hand-crafted music with "guaranteed goose bumps." Whoever would like to experience him live, should visit one of his concerts in the region in March."


Click the article to enlarge it. Back button to return.
"...the new release by Ray Pasnen called "Human Race." WHMX received an advanced copy of the album on November 19, 1992. We immediately put one of it's songs (Am I Losing You) into regular rotation. The response from our listeners was tremendous. Within two days, Am I Losing You became one of our most requested songs. Each year (Hot Mix 106) compiles a "Top 106 of the year" countdown...based entirely on listener requests received during the previous year. Ray Pasnen's song "Am I Losing You" appeared at number 14 (sandwiched between Eric Clapton's "Tears In Heaven" and Whitney Houston's "I Will Always Love You".) Considering that our listeners only had six weeks to vote for the song, this is an amazing achievement.

| | |
| --- | --- |
| | Michael Dow, Program Director |
| | WHMX, Hot Mix 106, 105.7fm |
| | January, 1993 - Lincoln, Maine |
| | Click here to see Complete Document. |
| | |
| --- | --- |
| ^about "Human Race" from an irate reviewer in 1993. | |