Ray's trip to Perth, Pemberton &
Margaret River, Western Australia Photos

There are a ton of photos here. It may take a while to load. "No worries, mate!"
In February, '06, I returned from trip to Pemberton, Western Australia. I was visiting my friends Linda, Ian and Raj (formerly from Bermuda). Linda and Ian own and run The Gloucester Motel in Pemberton and Raj is the head chef in the restaurant. I took a bunch of pictures and have added them all below for your inspection. These first ones are of Ian and myself in Margaret River. We drove down from Pemberton for a full night out and really went for it. We met a great guy named Robert who owns All Star Hire Services - its a limousine company in Margaret River that specializes in (amongst other things) winery tours. We had a blast and I would suggest this tour to anyone. Anyway... we begin with a few photos from that.

*

*
And here are a few pictures from the gigs at the Gloucester and some landscapes from the surrounding Pemberton area including a trip on the train (The Pemberton Tram).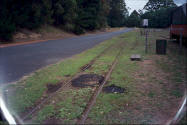 *Thanks to Robert Giometti from All Star Hire Services for these photographs.
Viagra Australia Buy Reductil online Australia Buy Viagra Australia online